Do you need a service for your systems? We can carry out one off service visits or bi annual visits or more at client request. We carry out proactive maintenance on all sort of air conditioning, refrigeration, air handling and ventilation systems.
Some customers require a more in depth service for such systems as AHU's and hvac equipment, with requirements of changing fan belts, micro filters and deep coil cleansing. Whatever the unit is we can look to service it keeping your systems up to maximum sufficiency and operating with maximum performance. So do not delay give us a call today.
We are very price competitive and usually can beat any price given so long as the quote is by a reputable company.  Please click here for our charges for standard maintenance. If you have a more complex system or a vast number of units we will bespoke quote you and try to lower our costs even more. You do not need a contract with us and the price for a one off visit would be the same as a contract, however a contract can have its perks such as during the cover period you would be liable for a 10% of call out charges and also more of a priority if a break down was to occur during the cover period.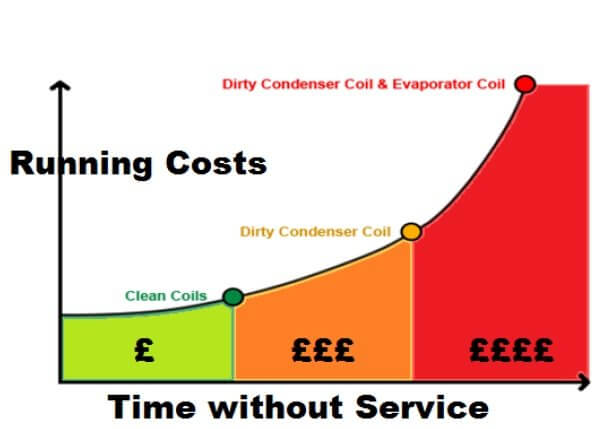 What we will do on a typical standard maintenance visit;
· Check operating temperatures (Air on/off)
· Clean inside evaporator unit (coils and fins)
· Refresh filters and micro filters (in evaporator units)Examine evaporator and valves
· Check temperature controls (Isolators and remotes)
· Clean condenser exterior (casing of outside unit)
· Examine safety controls
· Check general performance
· Check electrical safety
· Report promptly any defects or risks (On service report sheet if necessary)
· Lubricate moving parts (only when necessary)
· Check condenser coil and fins (clean as needed)
· Clean vegetation, etc from outdoor units
· Check condensing coil temperature (air on/off)
· Adjust condensing fan speed (if required)
· Check defrost control (if applicable)
· Make sure condenser is level
· Flush or blow out condensate drain line (if required)
· Check and clean evaporator drain pan and flush
· Check electrical connections
· Lubricate moving parts (if necessary)
· Clean cabinet Check visual integrity of system and report necessary improvements
· Check controllers
· Check coil on & off temperatures
· Check thermostat level
· Check safety cut out devices
· Check excessive vibration
· Check thermostat level
· Check thermostat calibration